¿Qué es una Pirate Box?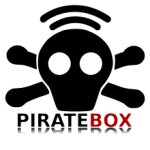 Es un dispositivo portátil, para crear una red inalámbrica y compartir archivos de manera anónima, que fue diseñado en el año 2011 por David Darts, un profesor de la Steinhardt School of Culture, Education and Human Development de la Universidad de Nueva York bajo la licencia Licence Art Libre. Su creador expreso en varias entrevistas su deseo de mostrar otra web posible, anónima y gratuita que muestre los aspectos básicos de los comienzos de Internet, el libre intercambio de información y datos.
Muy bien, pero ¿Para qué vale?
Vale para intercambiar mensajes y archivos, lo que facilita que se utilice donde sea necesario intercambiar información, actualmente hay proyectos para dotar de un cierto grado comunicativo a algunos pueblos de África, así  como la utilidad que puede tener en reuniones, congresos, museos… ¿Prometedor verdad? El lugar donde mas se utilizan por ahora es Francia y Estados Unidos.
Pues al lío ¿Como se instala?
Instala Raspbian "wheezy" http://www.raspberrypi.org/downloads
Iníciala normal, con acceso a Internet, un teclado y monitor
Habilita ssh y si no quieres que enfurezca, cambia la password por favor!!
Expande el file system y reinicias, ahora 
¡a instalar paquetes!
# sudo apt-get update
# sudo apt-get -y install lighttpd
# sudo /etc/init.d/lighttpd stop
# sudo update-rc.d lighttpd remove
# sudo apt-get -y install dnsmasq
# sudo /etc/init.d/dnsmasq stop
# sudo update-rc.d dnsmasq remove
# sudo apt-get -y install hostapd
# sudo /etc/init.d/hostapd stop
# sudo update-rc.d hostapd remove
# sudo apt-get -y install iw
# sudo rm /bin/sh
# sudo ln /bin/bash /bin/sh
# sudo chmod a+rw /bin/sh
editamos el archivo de interfaces
/etc/network/interfaces
auto lo
iface lo inet loopback
iface eth0 inet dhcp
iface wlan0 inet manual
### disalbed for PirateBox
#allow-hotplug wlan0
#wpa-roam /etc/wpa_supplicant/wpa_supplicant.conf
#iface default inet dhcp
Instalamos pirate box

# wget http://downloads.piratebox.de/piratebox-ws_current.tar.gz
# tar xzf piratebox-ws_current.tar.gz
# cd piratebox
# sudo mkdir -p /opt
# sudo cp -rv piratebox /opt
# cd /opt/piratebox
# sudo sed 's:DROOPY_USE_USER="no":DROOPY_USE_USER="yes":' -i /opt/piratebox/conf/piratebox.conf
# sudo ln -s /opt/piratebox/init.d/piratebox /etc/init.d/piratebox
# sudo update-rc.d piratebox defaults
# sudo /etc/init.d/piratebox start

Y listo! 😀 Después de esto la Pirate Box debería arrancar al inicio. Funcionará con la interface wifi, la ethernet no la debes conectar a la red
Producto disponible en Amazon.es
‹
›